Forty years after its introduction, the popularity of PGT Eze Breeze has yet to blow over. This incredibly versatile line of products was spawned from the Progressive Glass Technologies division of VinylTech in the 1980s, first offering vinyl porch enclosures. Later that decade, the Florida-based company began manufacturing Eze Breeze windows, opening up even more design possibilities to homeowners. Just as Eze Breeze helped launch a NYSE-traded company (PGT Innovations), it can still help you launch some truly inspiring home remodeling projects. 
What is Eze Breeze?
The fundamental building block of every Eze Breeze product is the impact-resistant vinyl-glazed panel. Despite its lightweight construction, it's remarkably resilient and durable. The panels can be configured vertically or horizontally, with various venting options to allow for as much or little airflow as you desire. Both panels and frames are available in various colors and tints to comply with your aesthetic and privacy requirements, and can be customized to fit any opening. As an added bonus, the panels easily pop out for cleaning and maintenance. 
Whether you're using them to fully or partially enclose a porch, patio, or sunroom, Eze Breeze panels offer an excellent way to meld indoor and outdoor spaces. 
Retrofitting with Eze Breeze
The real appeal of the Eze Breeze vinyl enclosure system is its ability to transform and extend the utility of an existing deck, screen porch, or patio. By retrofitting these spaces, you can create a room you can enjoy nearly all year-round. It capably keeps the elements (and critters) out while letting air and light in, and screens UV radiation to preserve your furniture from fading. The standard vertical 4-track unit can be mounted into an opening from the outside (no interior trim required) or inside and is sealed for weather-tightness. With a little assistance from a portable heater or air conditioner, your enclosed porch or patio can maintain a comfortable temperature whether it's snowy or sweltering outside.
Better yet, after installation, the enclosed porch or patio is still considered a porch or patio —  meaning it won't alter your home's assessed tax value in the same way an addition would. With an Eze-Breeze retrofit, you get a lot of the functionality of an addition at a fraction of the cost.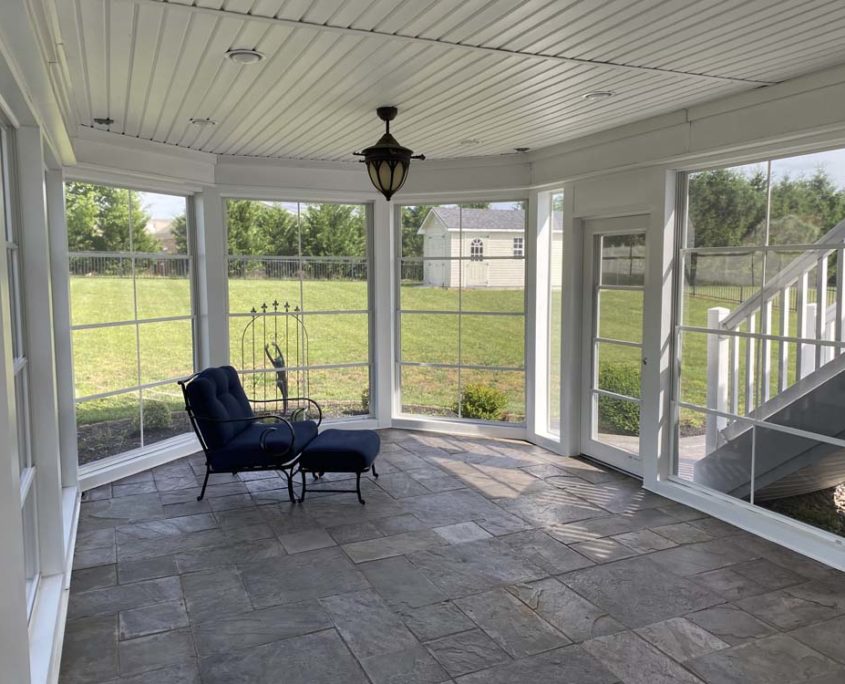 What can you enclose with an Eze Breeze retrofit?
Your Eze Breeze porch enclosure can be implemented in a bounty of creative ways.
1. Enclosed Gazebo
Plan an escape within your own backyard with an enclosed gazebo. Totally detached from the house, these outdoor sanctuaries offer a full 360-degree view of your surrounding landscaping while providing around-the-clock shade and shelter. Enclosing your gazebo with Eze Breeze vinyl-glazed panels is an upgrade over mesh screens alone, allowing you to adjust airflow and keep windblown precipitation out as you read, practice yoga, meditate, or just unwind after a long day. 
2. Pool House
Tired of wet feet trudging through the kitchen on a hot summer day? Build an enclosed pool house or cabana stocked with dry towels, refreshments, and toiletries — for a truly luxurious feel, you might even add a bar or lounge seating — and drippy kids and houseguests may never have to venture inside again. When the sun goes down and the air gets cooler, Eze Breeze panels can help keep the heat in and bugs out. The pool party is over when you say it is.
3. Greenhouse
Green thumbs will appreciate Eze Breeze in the context of a greenhouse. Bathe fruits, vegetables, herbs, and flowers in sunlight while regulating UV radiation and precipitation infiltration by simply sliding out or removing vinyl panels. A Eze Breeze greenhouse would make a beautiful home addition, patio feature, or even freestanding structure elsewhere on your property.
4. Sunroom
Wake up and smell the coffee — or the sweet fragrance of spring flowers, fresh-cut grass in the summer, or crisp scent of fallen leaves in the autumn — by incorporating Eze Breeze into a sunroom. And because the panels are UV-resistant, your skin can enjoy all the benefits of sunlight without the sunburn.
5. Garage
Garages aren't just for cars anymore (or storing your tools/equipment/junk either). With PGT Eze Breeze's garage side slider, you can aspire for more — a home bar, mancave, game room, gallery, studio, or anything else you can conceive — it's like pairing the functionality of a finished basement with the breathability of a patio. If you're content with your car parked outside, you'll be more than content with exploring the possibilities with Eze Breeze.
At Ayars Complete Home Improvements, we love the Eze Breeze enclosure system and we think you will, too. We're booked through the current season, but would love to see if your project is a good match for us in the long term. Peruse our project galleries for a glimpse of what we can make happen for you. 
https://www.ayars.net/wp-content/uploads/2020/06/mickleton-new-jersey-patio-room-5-1.jpg
750
1000
Epic Webstaff
https://www.ayars.net/wp-content/uploads/2022/07/ayars-logo-edited-600x224-1-300x112.png
Epic Webstaff
2020-07-15 15:45:03
2020-07-15 15:45:03
5 Creative Ways to Use Eze Breeze Enclosure Systems